Information Pages
Online Shop Sections
Dahle 505 Creative Trimmer

5 Trimming Styles in 1 Trimmer
The Dahle 505 provides great versatility especially for craft and creative users.

Your straight cut trimmer can also produce
wavy cut, deckle-edge cut, perforation and folds.

Dahle 505 Trimmer Demonstration Video
This video shows the different effects produced by each cutting head attachment.

Easy & Quick Change of Blades
To change between cut types is easy and quick.

Simply take the new blade style from the in base storage clip, and swap it in the cutting head assembly.

Convenient Blade Storage
The blade cassettes are stored conveniently within the base when not in use keeping you organised and tidy. No need to hunt around when you want to change cutting styles.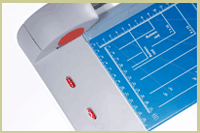 Dahle 505 Features
* Super-slimline table

* Non-slip rubber feet for firm standing

* Practical format lines on the table with mm graduation along the cutting edge

* Ground circular blade and lower blade for straight, precision and burr-free cutting results

* Push-on cutting head cover and enclosed blade cassettes ensure maximum safety

* Automatic clamping on the cutting line for quickly holding down the cutting stock

* Two scale bars with mm scale for an exact 90° cut

* Four clip-in decorative-cut cassettes
wavy cut, deckle-edge cut, perforation and folds (cutting height max. 0.3 mm)

* Circular blade and cutting edge for the four decorative cutting styles

* Viewing window in the side section for quickly identifying the decorative-cut cassettes

* Practical cassette storage position underneath the trimmer for safe cassette storage

* Two indicators for either cutting direction to show the cutting line for decorative cuts

2 years function warranty if used in accordance with manufacturer's instructions