Information Pages
Online Shop Sections
Dahle 446 Premium Rotary Trimmer

446 Trimmer Video

Practical stand with waste tray

Sturdy stand with waste tray for optimum working height.
Making use of the trimmer easier and more comfortable.

The erogonomic height will help reduce back strain associated with poor posture.

An optional extra that is available for models 446 and 448 (796/798).

No more slipping on off-cuts that have fallen to the floor.

The integrated waste tray keeps the work area clean, tidy, and a safer place to work.

Easy & Safe to Use


The trimmer has an ergonomic cutting head that is easy to grip,
and with the automatic clamping action the 446 trimmer is easy to use with accuracy.

The circular blade is securely sealed plastic inside the housing to provide maximum safety.

Safe & Easy to use.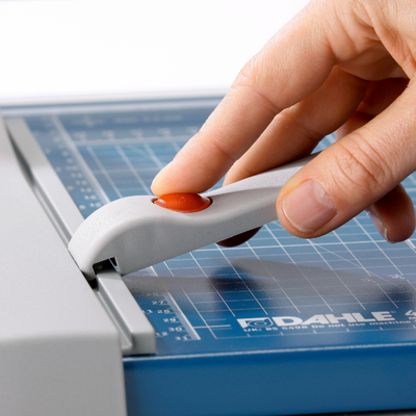 Dahle 446 trimmer Features
User-friendly trimmer for professional use.

Sturdy solid metal table with non-slip rubber feet.

Practical format lines on the table.

Ground circular blade.

Ground lower blade.

High-quality blades made of hardened steel.

Circular blade enclosed in plastic cutting head.

Automatic clamping on the cutting line.

Two scale bars with mm scale.

Adjustable backstop.

Cutting head easy to change.

Optionally available practical stand with waste tray for models 446 and 448 (796/798).