Information Pages
Online Shop Sections
Dahle 442 Premium Rotary Trimmer

442 Trimmer Video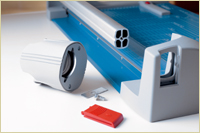 Easy to change the cutting head

Changing the cutting head is easy on all Dahle trimmers.

We supply new cutting head assemblies when you need a new one.

Simply remove the bar from the housing, then slide off the old cutting head and slide the new one on.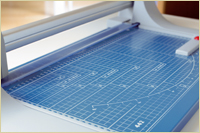 The 442 trimmer is user-friendly and professional

The practical format lines on the table and the two scale bars with mm scale on the trimmer guides us.

Dahle 442 trimmer Features

User-friendly trimmer for professional use

Sturdy solid metal table with non-slip rubber feet

Practical format lines on the table

Ground circular blade

Ground lower blade

High-quality blades made of hardened steel

Circular blade enclosed in plastic cutting head

Automatic clamping on the cutting line

Two scale bars with mm scale

Adjustable backstop

Cutting head easy to change

Tested according to GS safety regulations.

5 Year Manufacturers Warranty